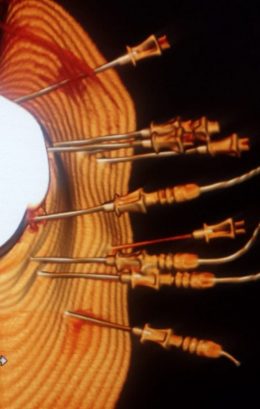 Coagulation abnormalities
A procedural risk
Any physician performing procedures has to be aware of the risk of causing bleeding secondary to the procedure. All procedures have some risk of bleeding. Because procedures in neuroradiology often involve areas with tight anatomical space (e.g. the spinal canal), the potential negative effects of bleeding are higher and can require surgical intervention.
For this reason, most procedures in neuroradiology are considered moderate risk of bleeding. This includes procedures such as:
Lumbar puncture
Epidural injections
Facet blocks
Vertebroplasty/kyphoplasty
"Because procedures in neuroradiology often involve areas with tight anatomical space (e.g. the spinal canal), the potential negative effects of bleeding are higher…"
These procedural risks have been addressed by panels of experts, and the most commonly used systems for considering this risk was published in the Journal of Vascular and Interventional Radiology in 2012. In this paper, detailed suggestions for preprocedural testing and threshold laboratory values are listed.
For the majority of spine procedures, the suggested preprocedural testing is as follows:
INR: recommended
aPTT: recommended only in patients on heparin drip
Platelets: not routinely recommended
Hematocrit: not routinely recommended
Of course, individual patient considerations must be accounted for. As an example, a patient receiving intrathecal chemotherapy for lymphoma may have a significantly higher risk of low platelets secondary to being on chemotherapy.
After testing, correction should be made when necessary, including:
correcting INR to

≤

1.5
aPTT < 1.5 x control
Platelets > 50,000 / µL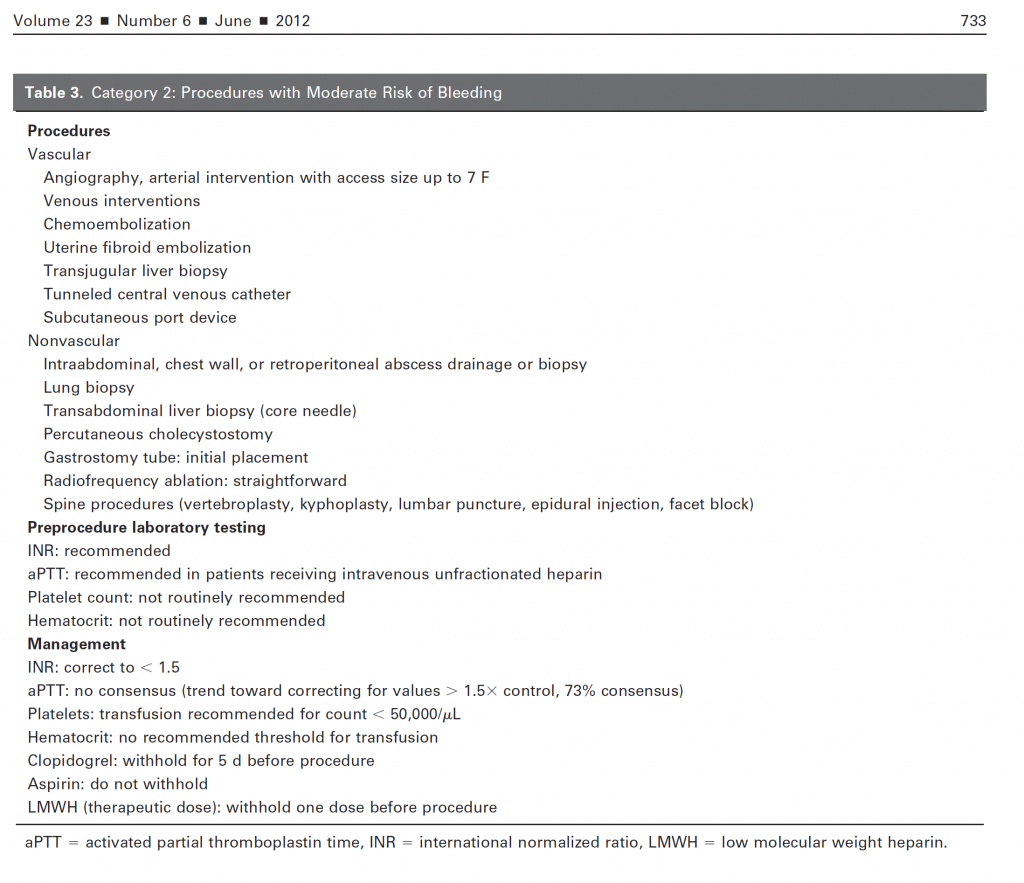 Anticoagulation
Stopping anticoagulants prior to a procedure
Of course, in the modern era, the greatest risk of anticoagulation arises from drugs being given to the patient. Moreover, the number of novel anticoagulants has clouded the picture further. However, recommendations for the most common anticoagulants is relatively straightforward.
Heparin infusion: stop for 4 hours and recheck aPTT prior to beginning procedure
Low molecular weight heparin (Lovenox): withhold one dose before procedure
Coumadin – withhold 5 days prior to procedures, bridge according to patient's condition
Aspirin/NSAIDs – do not withhold
Clopidogrel (Plavix) – withhold 5 days prior to procedures
It is of note that most studies have found no increased risk of procedural bleeding on aspirin (either 81 mg or 325 mg dose), and most experts do not recommend stopping aspirin prior to a procedure.
Anyone who has seen TV commercials lately knows there has been a proliferation of new oral anticoagulants, including Pradaxa, Xarelto, Eliquis, and Savaysa. The use of these anticoagulants complicates the issue considerably because they are often slowly cleared and have no reversal agents. For this reason, they must frequently be stopped anywhere from 3-5 days prior to a procedure. Prior to performing a procedure on a patient on advanced anticoagulant, consulting your institution's policies is recommended.
Finally, these recommendations are only suggestions to help in the best management of the patient. Some patients may be at slightly higher risk because of the difficulty of the procedure or other complications. Additionally, the risk of bleeding is likely additive when patients are on more than one medication with anticoagulation or antiplatelet effects, and that additional risk should be considered.
In conclusion, it is possible to perform procedures on patients with coagulopathy and on anticoagulants, but they should be performed with knowledge of the risk involved and while taking steps to minimize that risk.
"It is possible to perform procedures on patients with coagulopathy and on anticoagulants, but they should be performed with knowledge of the risk involved and while taking steps to minimize that risk."