ABR Maintenance of Certification (MOC)/Online Longitudinal Assessment (OLA)
Once you've paid your tributes to the American Board of Radiology (ABR) to apply for the core, certifying, and CAQ exams, you are both considerably poorer and beyond the hardest parts of certification. For the most part, now you just need to keep paying the annual fee and do the minimum possible to get through the online maintenance of certification (MOC) questions, known as online longitudinal assessment (OLA).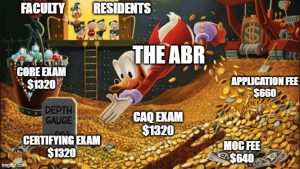 Now it pains me to say this, but the MOC is actually the fairest part of the entire ABR certifying process. The questions more or less make sense, you can view them on your own time from any location and any device, and they have pretty short and mostly reasonable explanations.
The same failings of the other ABR exams apply. That is, the images are often poor quality (sometimes clearly taken from a cell phone image of a screen. It's like, "Don't these people know how to take a screenshot"), there may not be enough images, and the questions can have overlapping answers. They love to ask questions about diseases that have textbook answers for why they might look different but are not meaningfully differentiable in real life.
Now it pains me to say this, but the MOC is actually the fairest part of the entire ABR certifying process.
Setting up online longitudinal assessment (OLA)
Once you are fully certified, you can perform your OLA by going to the ABR OLA web site. Login with your regular ABR information to begin.
At the start, you have to set up your practice profile. In setting up your practice profile, you essentially choose what proportion of your practice you want to be tested on. You can choose up to 2 different practice areas. However, some of the categories you can choose are general practice areas including "General Diagnostic Radiology" and "Emergency Radiology". Since the ABR introduced Emergency Radiology as a topic, I haven't really heard many complaints about the practice patterns tested as part of OLA.
If you have the CAQ in one of the areas, choosing questions in those area keep you up-to-date in certification for those areas. For example, I have the CAQ in neuroradiology and these questions count towards my MOC for CAQ as well. You don't have to do anything separate.
I strongly recommend that you do questions in whatever you did your fellowship in, because that is likely to be the easiest. If you split your effort between more than one areas, it makes sense to maybe try splitting between those areas. One of the good things is that you can change your practice distribution at any time.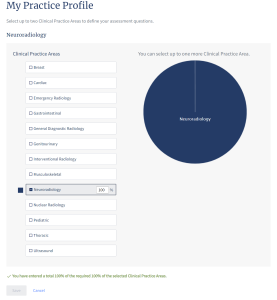 How to take OLA questions
Each time you login to OLA, you have a dashboard at the top left. Here, it tells you how many questions you have available to take as well as how many are going to be expiring that week. To start answering, you just click the button that says "Answer now". Once you do that, it will move to a new screen that will tell you how long you have to answer the question and how many images will be shown. If you don't have time to do it, you can back out then. The time ranges from 1-3 minutes per question. The images varies but usually is 1-5 images per question.
The questions are multiple choice with usually 4-5 answers. You pick your answer, click submit, and get the answer immediately. There is a short explanation that is pretty reasonable usually.
At any time, you can click on the dashboard to see your old questions and filter them by ones you got correctly, ones you missed, etc. It's one of the more transparent features of ABR testing.
So, what else do you need to know about OLA
Key OLA numbers:
New questions per week: 2
Each week there are 2 new OLA questions which will become available to you.
How fast questions expire: 4 weeks
They expire in 4 weeks. That means at any given time, you can have up to 8 questions that you can answer in the OLA system.
How many questions do I have to do: 52 per year
To complete the year's requirements, you must complete 52 questions. This means that you have to answer at least 26 weeks worth of questions.
Key OLA answers:
Are the OLA questions hard: No
In general, I would say the questions are pretty easy for someone with subspecialty training. I'd say about half of the questions you will known the answer to right away, another 30% you'll easily know with a little thought, and 20% are a toss up what they are asking for. Overall, I think it's pretty fair.
Do I need to prepare for OLA: No
I think for most people it's pretty fair and you'll do just fine from your daily practice. OLA seems to be what the ABR has been going for in terms of a fair test that your daily work will prepare you for. If only the other tests were this reasonable.
Can I do it from my phone/tablet: Yes
It will tell you they recommend doing it from a computer, but you can do it from a tablet or phone easily. Their images are not that good and any modern device can see them just fine.
How do I know when new questions are available: Email
When new questions become available (usually on Monday morning), the ABR sends you an email that tells you how many questions you have available to take and how many are expiring that week. This gets a little annoying because it's too frequent, but keep reading to see how to get it down to once a month:
Making OLA as painless as possible
The biggest complaint I hear about OLA are that the emails come too often and that you have to think about it too often. That is, the ABR shouldn't be bothering us every week.
There is a fix to this.
You just have to go into the OLA preferences setting and change when you get an email. You can choose to have them never email you, but if you are like me, then you'll forget about it entirely. I suggest changing it to emailing you when "Question(s) are expiring Sunday". That way you'll get an email only when you have questions about to expire. If you do all the questions that are available each time, this will mean you will do 8 questions once a month. You won't get an email for another 4 weeks.
The next tip is once you finish your 52 questions, click on the option to "Pause email until next year". Then, once you finish your 52 you won't hear from them until next January. It should give this to you once it knows you've completed 52 questions, but in case it doesn't, you can find it there.
For me, these two tips have transformed OLA into a much less annoying process.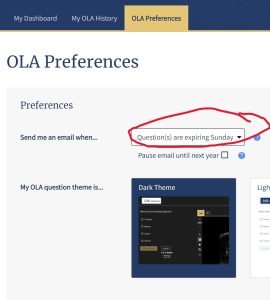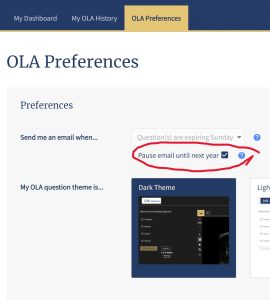 How do I know if I'm passing the OLA?
Honestly, you have no idea. However, as far as I can tell, it doesn't matter. After about a year, OLA will start to show you some completely unintelligible graphs about how far above or below the standard you currently are. I have yet to hear from ANYONE who was not meeting the standard though. I'm pretty sure as far as you keep paying you'll keep passing, but it is theoretically possible that if you fall below the standard you will have to perform some remediation.
If you want to learn a little more detail about the scoring, check out Ben White's take on the process.
In my opinion, the ABR MOC process with OLA is probably the easiest process the ABR has put together. Now, obviously this is to keep the old legacy members happy because you can't have dues paying members failing or they might realize they could just stop paying, but perhaps the ABR should think about that when designing the remainder of their testing. Hopefully this page helped you figure out how to optimize the ABR OLA process.
OLA is probably the easiest process the ABR has put together… because you can't have dues paying members failing or they might realize they could just stop paying