There are a number of other online resources that can be valuable to learners interested in neuroradiology ranging from medical students to advanced trainees and faculty. While not comprehensive, this is a short list of some of the resources available and worth checking out.

NeuroradiologyU is a website run by Judy Gadde, DO, a pediatric neuroradiologist at Emory University in Atlanta, GA. She prepares unknown cases, which initially are found on her Twitter (@judygadde). After a short run, on Twitter, the cases are archived here, where they can be searched and studied.
There is a broad range of content with an emphasis on pediatric neuroradiology.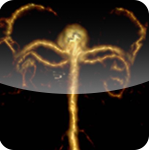 Learningneuroradiology.com is a website designed by University of Wisconsin neuroradiologist Tabbe Kennedy, MD. There is a lot of great content here, including a great deal of introductory level material covering imaging techniques, anatomy, and cases. It is a great place to start when learning the field of neuroradiology, especially for medical students and beginning residents. It has a curriculum based approach with specific goals and objectives which can be accomplished.
You don't have to say a whole lot about this site, other than it is a critical component of most resident's online resources. Great overviews of anatomy and cases are go-to resources, especially for anatomy. This site is maintained by Brett Young, MD.

To understand Radiopeadia, all you have to do is read it's mission statement, which is to "create the best radiology reference the world has ever seen and make it available for free, for ever, for all." This is a totally ambitious mission statement. And they live up to it!
Radiopaeidia is an extensive reference resource, with reference articles on almost every topic of interest. If it's not there, you can even create it. It has resources for storing teaching cases and an insane amount of cases you can view. All for free. When I was a resident, we had to subscribe to an expensive annual service to get less useful information.
One final pro-tip: if you want to learn about a given topic, try just searching in your browser and add "radiopaedia" to the end. E.g. "cerebral hemorrhage radiopaedia". Works every time!
Thanks to Frank Gaillard MBBS for keeping this site at its stellar level over the years.