Neuroradiology Board Review – Brain Tumors – Case 16
Neuroradiology brain tumor board review. This lecture is geared towards the ABR core exam for residents, but it would be useful for review for the ABR certifying exam or certificate of added qualification (CAQ) exam for neuroradiology.
More description and the answer (spoiler!) are seen below the video.
This case shows a 20 year-old with seizures. MRI shows a lesion in the medial temporal lobe along the tentorium. It is relatively well circumscribed with a cystic portion as well as an enhancing nodule. There is not much mass effect.
The diagnosis is: ganglioglioma
Gangliogliomas are low grade tumors often found in the temporal lobes of patients with seizures. They are mixed in their cell origin, containing both components of glial and neuronal cells. Along with pilocytic astroctyoma, PXA, and hemangioblastoma, they are one of the tumors in the differential for a tumor with a cyst and a nodule. They can be impossible to differentiate from DNET, but if you see enhancement it is more likely to be a ganglioglioma. Gangliogliomas are the most common neoplastic cause of epilepsy.
When you see a minimally enhancing cortical tumor, you should have a relatively short differential which includes:
First consider whether they are ill-defined or well-marginated. If ill-defined, the differential includes astrocytoma or oligodendroglioma. If well-marginated, then consider whether there is enhancement. If no enhancement, DNET is most likely. If there is a small amount of nodular enhancement, favor ganglioglioma, as in this case.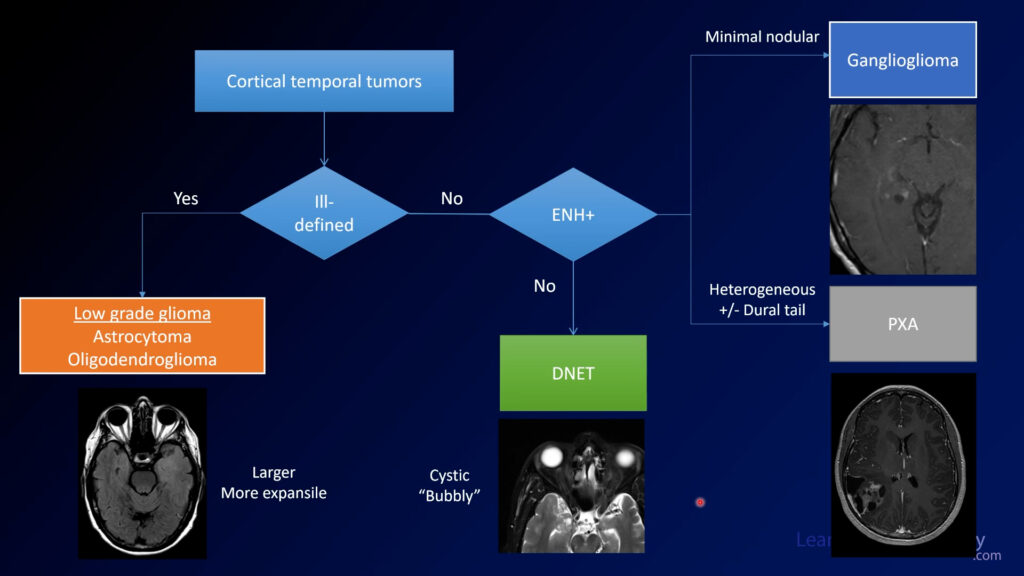 In a testing situation, if a small and minimally enhancing cortical tumor enhances a little bit, choose ganglioglioma. If you don't seen enhancement, choose DNET. PXAs tend to be much more heterogeneous and irregular.
If you use a structured approach to these tumors, you can fall back on it if you aren't really sure what you are looking at. With these relatively simple rules, you can be sure to get the most points on your exams AND give the most meaningful differential diagnosis.