Neuroradiology Board Review – Brain Tumors – Case 13
Neuroradiology brain tumor board review. This lecture is geared towards the ABR core exam for residents, but it would be useful for review for the ABR certifying exam or certificate of added qualification (CAQ) exam for neuroradiology.
More description and the answer (spoiler!) are seen below the video.
This case presents an MRI in a patient with symptoms that sound like partial seizures. There is a pretty subtle abnormality in the medial right temporal lobe. The abnormality is a little bit hard to see, but there is some FLAIR and T2 hyperintensity in the right medial temporal lobe and amygdala. You see it best on the coronal images.
The diagnosis is: dysembryoplastic neuroepithelial tumor, or DNET
DNETs are benign and relatively slow growing tumors often in the gray matter of the medial temporal lobe. They rarely have much enhancement or hemorrhage. They are often described as "bubbly" or "soap bubble" lesions. They are often associated with seizures. Resection or ablation can be curative.
When you see a minimally enhancing cortical tumor, you should have a relatively short differential which includes:
First consider whether they are ill-defined or well-marginated. If ill-defined, the differential includes astrocytoma or oligodendroglioma. If well-marginated, then consider whether there is enhancement. If no enhancement, DNET is most likely. If there is a small amount of nodular enhancement, favor ganglioglioma. As in this case, PXAs tend to have more enhancement in a more irregular pattern.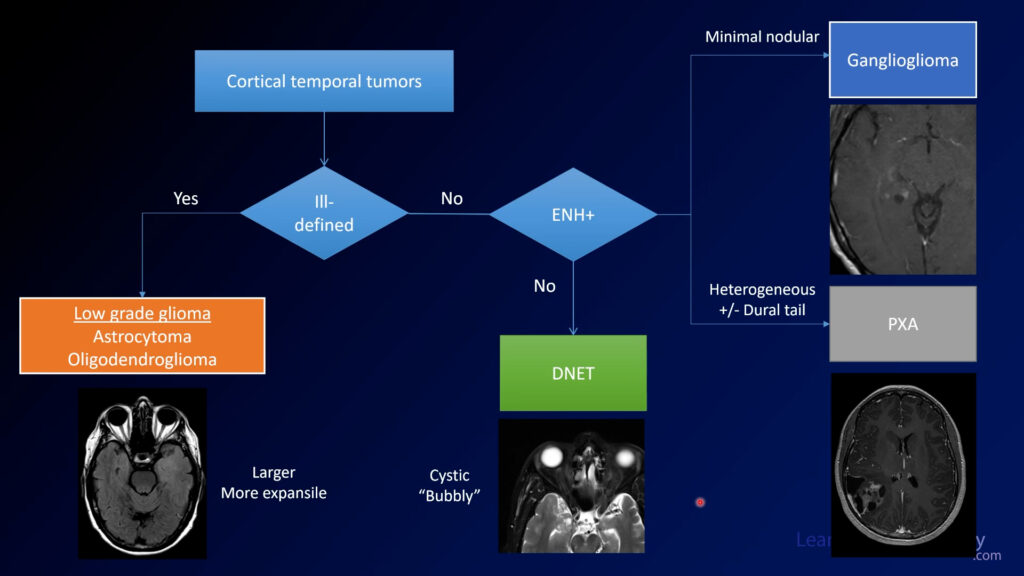 In a testing situation, if a small and minimally enhancing cortical tumor enhances a little bit, choose ganglioglioma. If you don't seen enhancement, choose DNET. PXAs tend to be much more heterogeneous and irregular.
If you use a structured approach to these tumors, you can fall back on it if you aren't really sure what you are looking at. With these relatively simple rules, you can be sure to get the most points on your exams AND give the most meaningful differential diagnosis.