5 ways to improve your brain aneurysm search pattern
In this video, I walk you through 5 quick tips that you might use to improve your brain aneurysm search pattern on CT angiograms of the brain. This is a longer version of a lecture I put together with Everlight Radiology, so be sure to check them out.
Have a standard search pattern. When I'm looking at a CTA of the head, I do the anterior circulation first and then move from right to left, then over to the posterior circulation.
Know the common aneurysm locations. The most common aneurysm location is the anterior communicating artery (35%) followed by the carotid terminus (30%) and middle cerebral artery (20%). Posterior circulation aneurysms are relatively uncommon (10%) but it's important to look there as well. Try to use these tips on the sample case.
Use reformats and 3-D imaging. These supplemental tools can help you improve your sensitivity. Multiplanar reformats are thin slices that are displayed in the other planes, while maximum intensity projections (or MIPs) show you the brightest pixel in a thicker slice. Volume renderings are a nice way to make measurements and increase your sensitivity.
Using the MIPs can definitely make you more sensitive. The axial MIPS are great to see the MCAs, the sagittal MIPs are great to see the carotid terminus and ACAs, and the coronal MIPs are great to see the posterior circulation and MCAs again.
Follow the blood. This is my favorite tip. The location of the blood on the non-contrast CT is one of the best clues about where your aneurysm is going to be. You need to check that area very closely.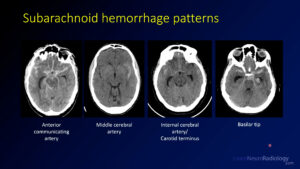 Recognize the mimics. There are some things which can mimic aneurysmal subarachnoid hemorrhage, but some features may help you know that it is less likely to be from an aneurysm. Atypical location, an unusual history, or unusual patient demographics can clue you in that it might be a different cause. Be sure to think about hypertensive hemorrhage, venous infarct, tumor (glioma, metastasis, or cavernous malformation), and benign perimesencephalic hemorrhage.
Summary. These 5 quick tips can help you be better at understanding aneurysms and being better and finding them.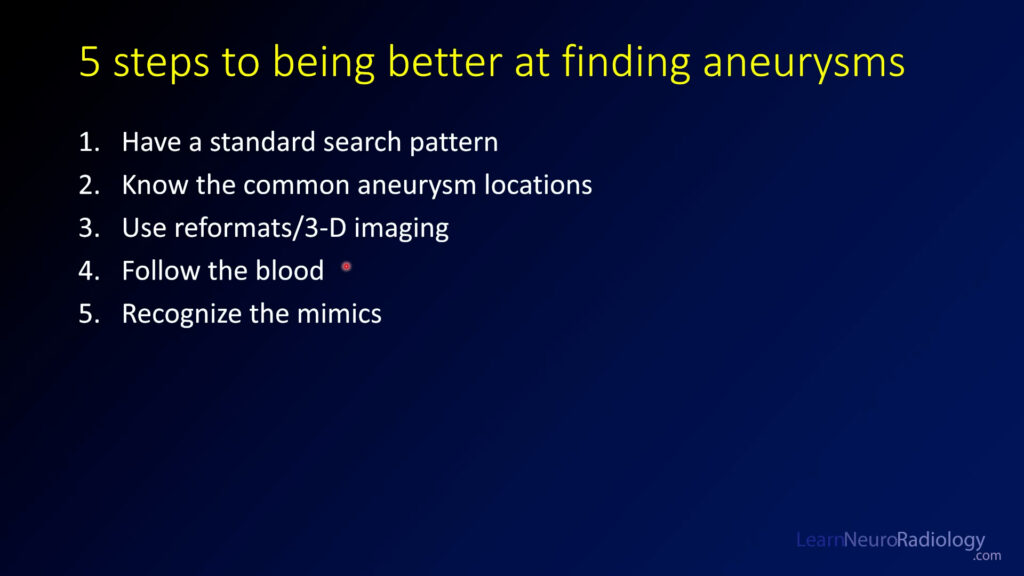 If you haven't already, be sure to check out the vascular imaging course and sample cases that you can scroll through.